What to Wear to a Dance Class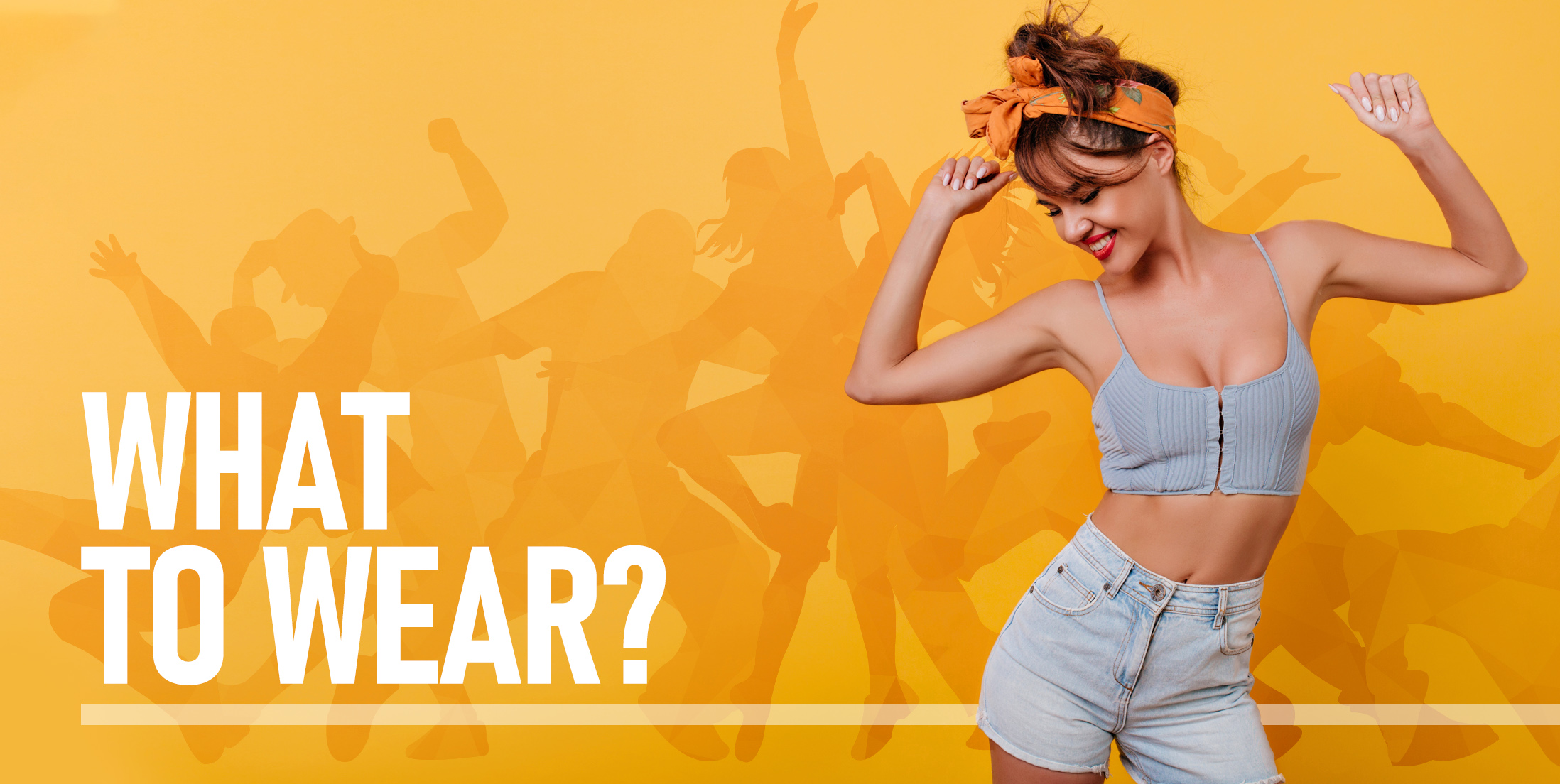 So you have booked your dance hen party and the exciting day is getting closer and closer. But you still have the all important question to ask your group…what are we wearing?
Our themed dance classes known for being extremely fun and energetic which is why they are such a popular choice for hen groups! No matter what type you may have chosen we are sure you will be wondering exactly what to wear to make the most out of the experience.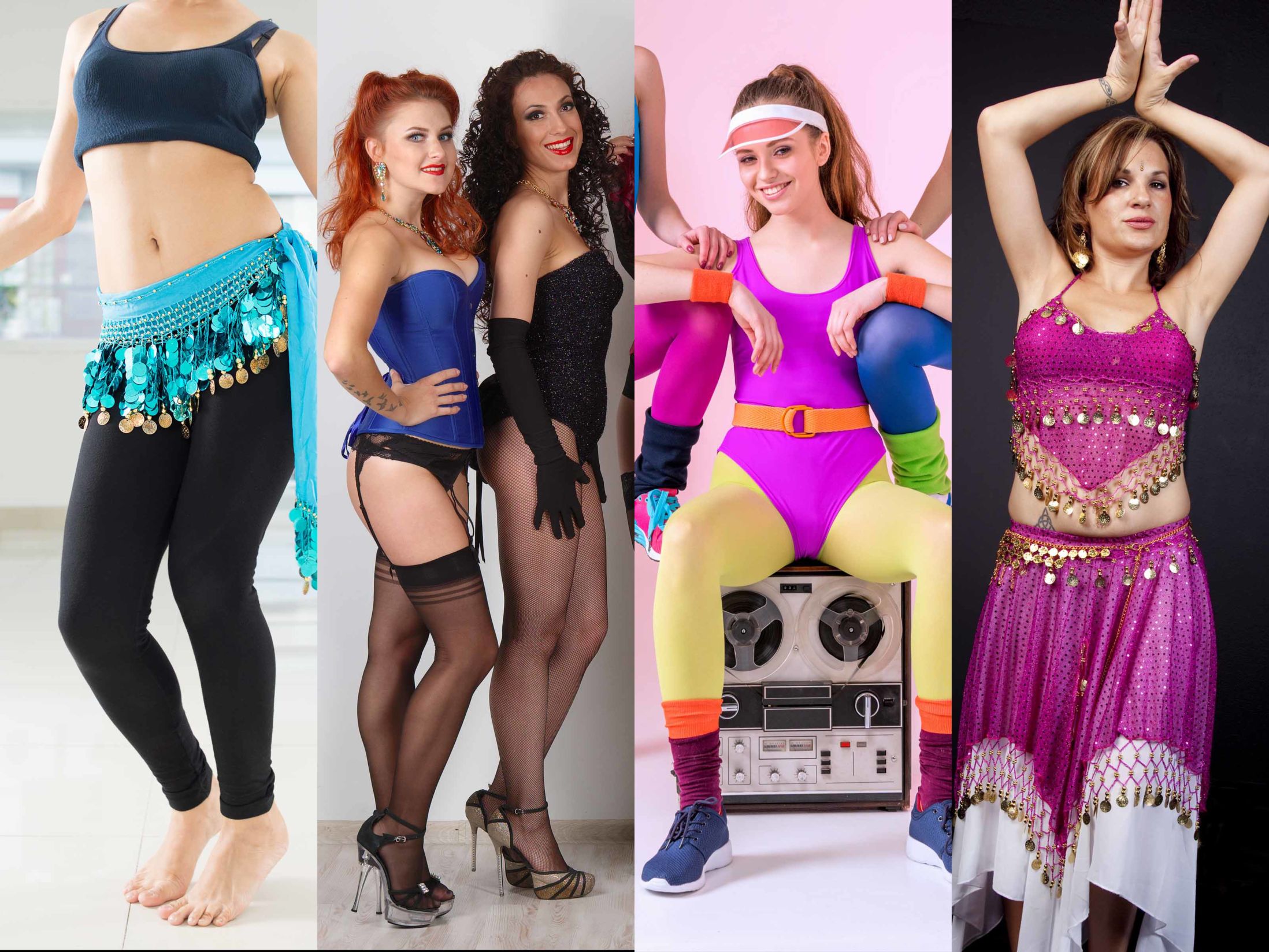 Gym Wear Or Dance Clothes
If you aren't wanting to go all out with a fancy dress themed outfit we would highly suggest making sure you are in comfortable clothes. Whether that be gym wear or just some loose clothing that you can easily move in. That way you can make the most out of your dance class and really put your all into learning all the dance moves without clothes becoming an issue.
Either gym or dance wear is fine for our classes as both offer flexibility and comfort. Best to try and where something you have worn before so that you know you feel relaxed and comfortable. Gymshark have some great outfits.
What Footwear is Best for Dancing?
The dance activities take place in a variety of venues like studio's, function rooms in bars and halls then trainers, flats, dance shoes or pumps are all fine and suitable.
We don't recommend bare feet as you can get injuries if you aren't use it doing without trainers.
Could I wear heels?
We get asked this a lot. Most hen groups won't have danced in heels before in an organised class. Therefore its best to wear trainers, flats or dance shoes for the actually class then bring heels for the photo's.

10 Fancy Dress Hen Party Class Outfit Ideas
1. Beyoncé Single Ladies
So with the Beyoncé single ladies dance class you will of course be learning the dance moves to the famous and extremely iconic Beyoncé song. And if you wanted to go all out you could dress as they do in the music video or take inspiration from their outfit choices!
2. Grease
The Grease dance will take you back to Rydell High so if you want to make it an experience to remember grab some pink ladies jackets and get ready to have some fun. We would suggest even wearing all black so that you really look the part of Sandy and the gang.
3. 90s Dance
If you are going for the 90s dance class and are wanting some ideas on how to dress think crop tops, baggy pants, and bright colours. If you were not wanting to go all out with the outfit you could even just keep it casual with some gym clothes.
4. Dirty Dancing
Nobody puts Baby in the corner so for your Dirty Dancing dance class you will be front and centre learning all the moves. If you wanted to look the part either wear the iconic skater dress or some denim jeans with a white top!
5. Burlesque
Burlesque is all about the feathers and tassels so for this dance class you will want to go as over the top as you can! Big skirts, feather boas and even some heels if you are feeling daring to learn a dance routine in them!
6. Bollywood
Now Bollywood is a dance theme that you can definitely go all out with the outfit choices. Whether you are just wanting to add the classic headwear or if you want to go all out with some of the colourful pants/skirts and tops!
7. Cheerleading
I think there will be very few people who have never dressed up as a cheerleader in their life. With the cheerleading dance class you will be able to easily look the part and transform into a full cheer squad with pom poms and matching sets.
8. 80s Dance
Think lycra, neon, leg warmers and all things high waisted. With your 80s dance hen party class you will easily be able to look the part during all of this fun. Even if you just added leg warmers into your look it will make a great addition to the experience.
9. Spice Girls
If there were only 5 of you in your group then it would be perfect to dress up as each Spice Girl. But if there are more of you then why not let everyone dress up as the Spice Girl that most suits them! It is a great way to feel the part ready for the dance class.
10. Belly Dance
For a belly dance class you will want to look the part with some maxi skirts, or flowing pants and a crop top! It's the perfect dance theme for you to go all out with and really have fun dressing up to learn a belly dance routine.
What Should You Bring to a Dance Class?
Water - Taking some water with you is definitely a good idea as you will definitely need it after learning a fun and energetic dance routine. And for staying hydrated throughout the session, especially if your dance class is going to be during the summer months.
Deodorant/Baby Wipes - Let's face it, after a dance class these 2 things are going to be your best friend. Especially if you don't have time to have a shower or freshen up at your hen accommodation. So if you make sure you have some deodorant and baby wipes you will be able to quickly freshen up ready for the rest of the afternoon.
Leggings - If in doubt on what to wear it is always a good idea to bring some leggings along with you to change into and then out of at the end of the class.
Cameras - You won't want to forget this experience of learning a fun dance routine so make sure all of your phones are fully charged and at the ready for some photo opportunities that you and the girls can take.
Looking for more help?
We have organised 1000's of hen party dance classes across 60+ dance studio locations across the UK & Europe.